Improve the quality
of national GHG
inventories
Monitor GHG sources and sinks
There is no energy transition without remote sensing technologies. Methane is the second biggest driver of climate change but policy-makers have been held back by a lack of data – until now. Kayrros Methane Watch is the world's first monitoring platform that relies on satellite imagery and advanced algorithms to measure methane emissions associated with the energy sector and other human activity. Our technology also makes it possible to track CO2 emissions in near realtime and measure changes in the carbon stock of forests.
Trusted
Methane Watch is used by the International Energy Agency and other leading organisations
Independent
Look beyond the self-disclosed emissions estimates and rely instead on actual measurements
Accurate
Accurate data are critical to improve the quality of national inventories submitted to the UNFCCC
Methane Watch relies on the Copernicus network of satellites operated by the European Space Agency as well as other sources of multi and hyperspectral imagery. Proprietary algorithms detect abnormal concentrations of methane and model its behavior under local weather conditions in order to quantify the flow rate (in kg per hour). These volumes can be aggregated in monthly reports and attributed to specific facilities with the use of high-resolution satellites. This top-down view from space can be complemented with ground-level measurements in order to provide a complete solution to monitor and mitigate emissions.
Source: Kayrros analysis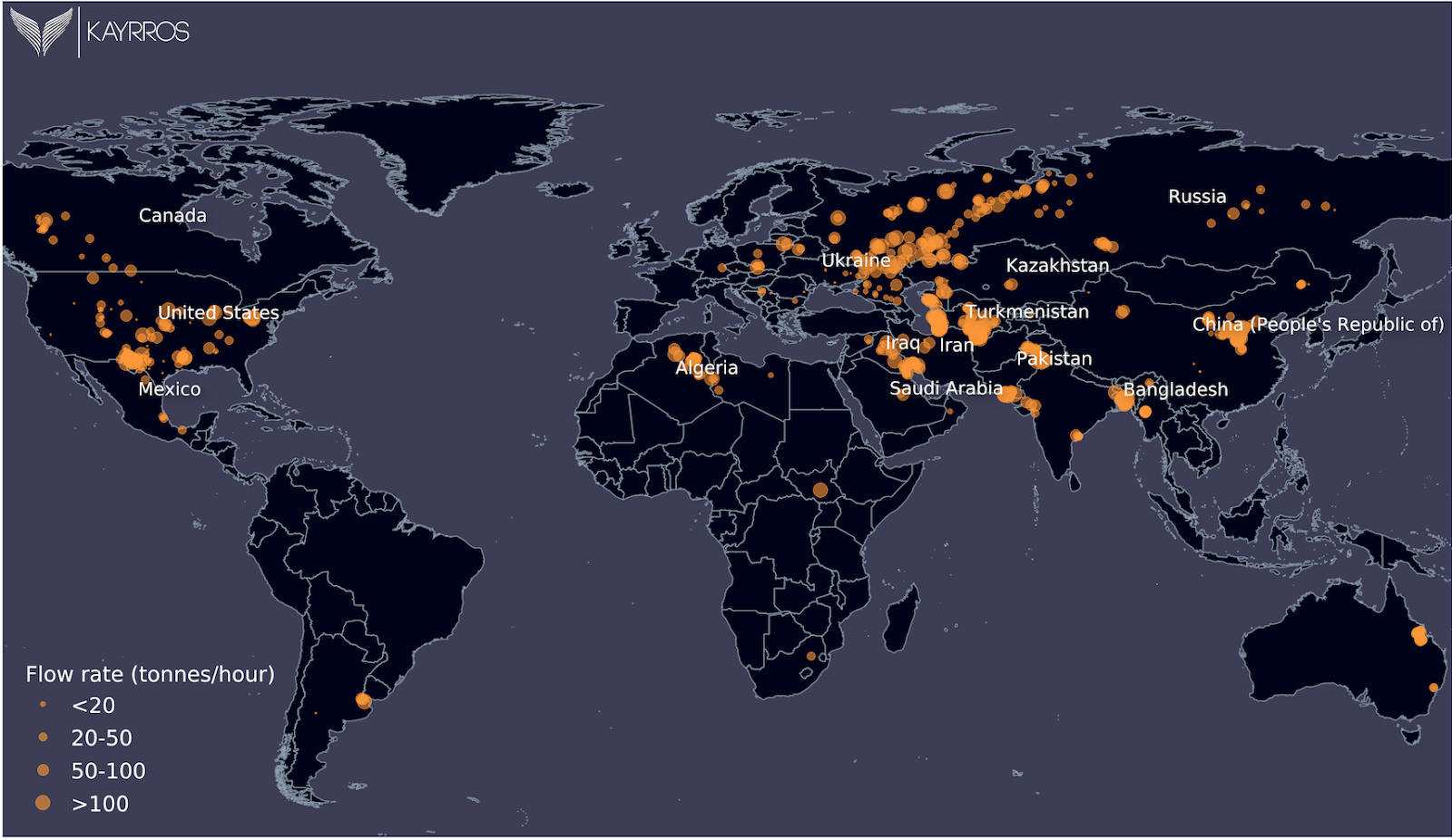 Methane 
Measure methane emissions by region and sector, and phase out dated methodologies based on emission factors
CO2
Track emissions by sector in near realtime using a big data approach
Carbon Sinks
Track the changes in biomass and the carbon sequestration of forested areas
Our other solution for Public Sector
Regulation, Taxation and Compliance
For the first time, governments can monitor greenhouse gas emissions to support environmental policy design…….  Read more